User login

New user?
Start here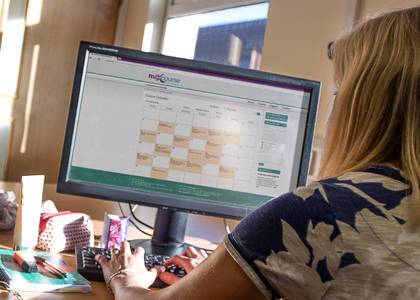 Welcome
Welcome to Health Education England Thames Valley and Wessex course booking system.
Inline with the GDC's new Enhanced CPD each course now stipulates the applicable GDC Development Outcome.
We have a NEW Personal development plan area. With minimal hassle you can create, organise and print out your PDP. Create an account or login to find out more.
Courses of interest
Thu 13 Dec 2018
Trainers' Meeting (DFTOX131218trainersmtg)

John Radcliffe Hospital, Oxfordshire
Fri 14 Dec 2018
Oral Health Promotion and Delivering Better Oral Health (SO141218)
This 3 hour course will provide an update on Oral Health Promotion relating to the 'Delivering Better Oral Health' national ...
Education Centre, RSHH, Southampton
Wed 9 Jan 2019
Essential Dentistry-Predictable Endodontics (OXMK090119)
The course consists of both lectures and hands on elements, delivered in a workshop style. This is a busy interactive day which ...
Milton Keynes Postgraduate Centre, Milton Keynes
Thu 10 Jan 2019
Minor Oral Surgery Essential Skills (MK100119)
A day course of presentations and hands-on sessions using pigs jaws/models in order to increase the confidence and knowledge of ...
Milton Keynes Postgraduate Centre, Milton Keynes
Wed 16 Jan 2019
Legal and Ethical Issues for the Dental Team (PO160119)
The GDC recommend that you keep up-to-date by doing CPD in legal and ethical issues.
Education Centre, Portsmouth
Thu 17 Jan 2019
Habits for health (BE170119)
This session will look at the wider implications of oral health and our role in promoting healthy habits in our patients. ...
Trust Education Centre, Berkshire - West
Fri 18 Jan 2019
Dental Sedation - an update for Dental Nurses (OX180119)
This course is designed for Registered Dental Nurses who have experience of working with sedated patients using intravenous and ...
Terence Mortimer Postgraduate Centre, Oxfordshire
Fri 18 Jan 2019
An update on Othodontics for the General Dental Practitioner (BE180119)
This is a valuable update on Orthodontics in lecture style with hands-on, by Giles Kidner a consultant Orthodontist for the last ...
John Lister Postgraduate Centre, Berkshire - East